Smoove® 4 RTS Pure
1 Available Colour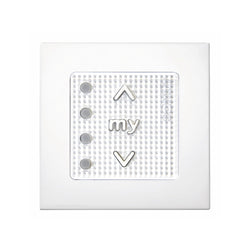 Colouring of fabrics might differ slightly from shown on screen.
SPECIFICATIONS
Model:  Smoove® 4  RTS  Pure
Ref:  1811748
The Smoove 4 RTS surface-mounted wall switch avoids cutting into drywall. This multi-channel, battery-operated solution is easy to install and doesn't require an electrician. Available with seven decorative color frames, users can easily complement any décor.